We welcome our "Q4 Share" guests who are trying out our program. Subscribe to the 8-week program today! LOG IN HERE. Once subscribed, pick a course CLICKING HERE
===========================================
* Cycle 3 course site is being edited and updated - should be ready by August 15*

SCROLL DOWN to see the courses to which your family is enrolled.


To log on: (first initial)(last name)
Password: aquinas

(all lower case letters. Please change your password when you first enter - AND WRITE IT DOWN in a secure place, it may take 24-48 hrs to reset the account.)
Monthly Devotions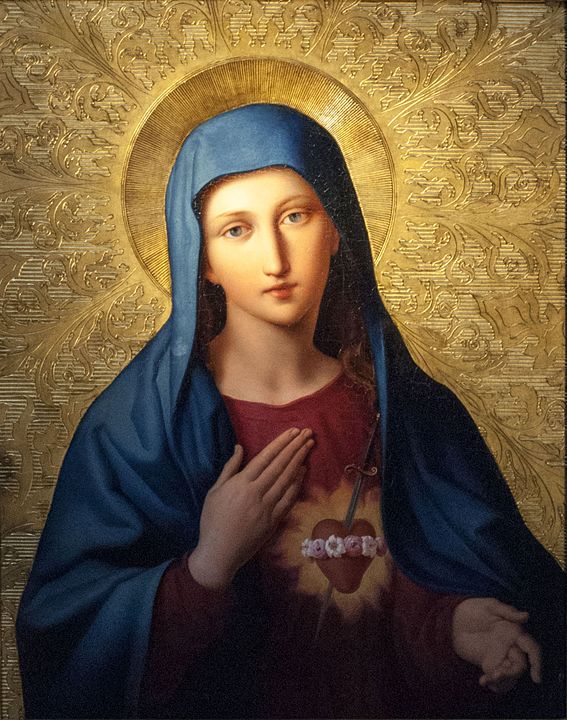 The Heart of Mary, by Leopold Kupelwieser
(Side chapel of St. Anthony Church, Peterskirche, Vienna, Austria)
August Devotion
Devotion to the Immaculate Heart of Mary focuses on Mary's love for God and encourages our emulating her humility, gratitude, obedience, and adoration; whereas Devotion to the Sacred Heart of Jesus focuses mostly on His divine love for mankind and encourages our humility, gratitude, obedience, and adoration.
Mary as loving Mother of Jesus Who suffered for us; Mary as Mother of the Church; Mary as obedient daughter, Mary as our Gevirah (Queen Mother of Israel) -- we ponder her interior life in each of these roles, consecrate ourselves to Jesus through her, make reparations for offending her as our Mother, ask her intercession for us with her Son, and emulate her as the model of Christian perfection.
Special Devotion: Miraculous Medal
On July 19, 1830, Catherine Labouré, a Daughter of Charity of St. Paul, was awakened when she heard a child's voice beckoning to her from the chapel. When she got to the chapel, Mary appeared to her, saying, "God wishes to charge you with a mission. You will be contradicted, but do not fear; you will have the grace to do what is necessary. Tell your spiritual director all that passes within you. Times are evil in France and in the world."
The Virgin was standing on a globe, rays of light streaming from her fingers, enframed in an oval frame inscribed with the words, "O Mary, conceived without sin, pray for us who have recourse to thee." The whole vision "turned" showing the back of the oval inscribed with the letter "M" entwined with a Cross, and the hearts of Jesus and Mary, the former surrounded with thorns, the latter pierced with a sword. 12 stars circled this oval frame. Mary told her to strike a medal in this form -- a medal now known as the "Miraculous Medal" -- and that all who wore it properly after having it blessed would receive graces. The wearing of the Miraculous Medal has become one of the most common devotions to the Immaculate Heart.
Source: https://www.fisheaters.com/ih.html
Prayer:
Hail, holy Queen
Hail, holy Queen, Mother of mercy, our life, our sweetness and our hope. To thee do we cry, poor banished children of Eve. To thee to we send up our sighs, mourning and weeping in this valley of tears. Turn, then, most gracious advocate, thine eyes of mercy toward us, and after this, our exile, show unto us the blessed fruit of thy womb, Jesus. O clement, O loving, O sweet Virgin Mary.
V. Pray for us, O holy Mother of God.
R. That we may be made worthy of the promises of Christ.
===============================================
ADD A RESOURCE:
https://docs.google.com/spreadsheets/d/15yjR0qQehHGQWGqpXaVRSbGwzO5L4gkh42vzFiAMHQE/edit#gid=211099198
REPORT AN ERROR:

https://docs.google.com/forms/d/e/1FAIpQLScGo_W69lBDwnfAfBI1gWmlw4diyNjaWWAn6B1L84a6Q6AGPA/viewform
===============================================