Q4 Share 8-Week Program - We welcome our "Q4 Share" guests who are trying out our program. Subscribe to the 8-week program today! LOG IN HERE. Once subscribed, pick a course CLICKING HERE

Scroll down to see your courses.
===============================================
Monthly Devotions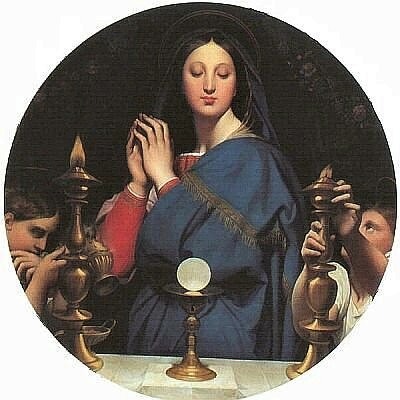 The Virgin with the Host (1854)
by Jean Auguste Dominique Ingres
April Devotion
The month of April is dedicated both to devotion to the Eucharist and devotion to the Holy Spirit. This tradition has developed because Easter Sunday often falls in April, and when it does fall in March, the Easter season continues on through all of April. In essence, April is a month of Easter, and during the Easter celebration we remember the Eucharistic sacrifice Christ gave us and the baptism in the Holy Spirit, which would come after Jesus's resurrection.
Reprinted with permission from: http://www.aquinasandmore.com/catholic-articles/monthly-dedications-of-the-church-year/article/184
Resources:
Devotion to the Holy Eucharist by Fr. Hardon: http://www.ewtn.com/library/doctrine/devoeuch.txt
https://www.catholicculture.org/culture/liturgicalyear/prayers/view.cfm?id=756
Prayer:
"ACT OF ADORATION I adore Thee, 0 Jesus, true God and true Man, here present in the Holy Eucharist, humbly kneeling before Thee and united in spirit with all the faithful on earth and all the blessed in heaven. In deepest gratitude for so great a blessing, I love Thee, my Jesus, with my whole heart, for Thou art all perfect and all worthy of love.
Give me grace nevermore in any way to offend Thee, and grant that I, being refreshed by Thy Eucharistic presence here on earth, may be found worthy to come to the enjoyment with Mary of Thine eternal and everblessed presence in heaven. Amen."
From: https://www.catholicculture.org/culture/liturgicalyear/prayers/view.cfm?id=756
Prayer Source: Prayer Book, The by Reverend John P. O'Connell, M.A., S.T.D. and Jex Martin, M.A., The Catholic Press, Inc., Chicago, Illinois, 1954
===============================================
ADD A RESOURCE:
https://docs.google.com/spreadsheets/d/15yjR0qQehHGQWGqpXaVRSbGwzO5L4gkh42vzFiAMHQE/edit#gid=211099198
REPORT AN ERROR:

https://docs.google.com/forms/d/e/1FAIpQLScGo_W69lBDwnfAfBI1gWmlw4diyNjaWWAn6B1L84a6Q6AGPA/viewform
===============================================