Q4 Share 8-Week Program - We welcome our "Q4 Share" guests who are trying out our program. Subscribe to the 8-week program today! LOG IN HERE. Once subscribed, pick a course CLICKING HERE

Scroll down to see your courses.
===============================================
Monthly Devotions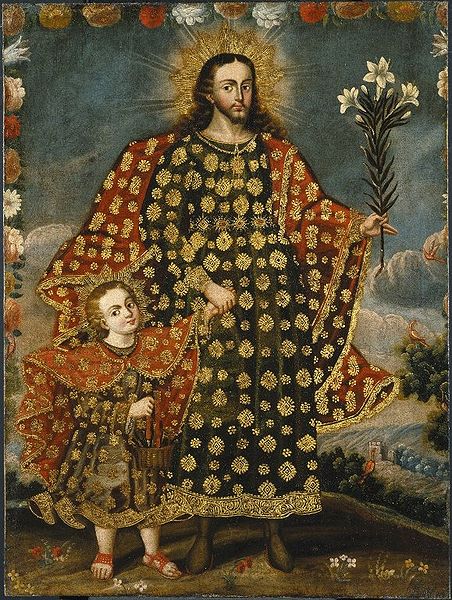 St. Joseph and the Christ Child (Brooklyn Museum)
March Devotion
"March is the month of devotion to St. Joseph, whose feast falls on March 19th. The date of the solemnity of St. Joseph dates to the end of the 15th century; within the next few centuries, the entire month as a time for devotion to St. Joseph became part of tradition.
In a society which seems to discourage the importance of marriage and fatherhood, St. Joseph, the spouse of the Virgin and the man given the responsibility of raising Jesus, is an incredible model of an obedient, faithful, Christian father.
There are indulgences attached to devotion to St. Joseph during this month: three hundred days daily for those who privately or publicly perform some pious practice in honor of St. Joseph, during the month, a plenary indulgence on any day of the month under the usual conditions."
Reprinted with permission from: http://www.aquinasandmore.com/catholic-articles/monthly-dedications-of-the-church-year/article/184
Resources:
https://www.ewtn.com/devotionals/novena/joseph.htm
https://www.ewtn.com/Devotionals/prayers/stjoe2.htm
Prayer:
"O blessed Joseph, faithful guardian of my Redeemer, Jesus Christ, protector
 of thy chaste spouse, the virgin Mother of God, I choose thee this day to 
be my special patron and advocate and I firmly resolve to honor thee all 
the days of my life. Therefore, I humbly beseech thee to receive me as thy
 client, to instruct me in every doubt, to comfort me in every affliction,
 to obtain for me and for all the knowledge and love of the Heart of Jesus,
 and finally, to defend and protect me at the hour of my death. Amen"
From: https://www.ewtn.com/Devotionals/prayers/stjoe.htm
===============================================
ADD A RESOURCE:
https://docs.google.com/spreadsheets/d/15yjR0qQehHGQWGqpXaVRSbGwzO5L4gkh42vzFiAMHQE/edit#gid=211099198
REPORT AN ERROR:

https://docs.google.com/forms/d/e/1FAIpQLScGo_W69lBDwnfAfBI1gWmlw4diyNjaWWAn6B1L84a6Q6AGPA/viewform
===============================================