We welcome our "Q4 Share" guests who are trying out our program because they are new to homeschooling, are interested in switching to a Catholic classical approach to homeschooling, or even forced by circumstances to homeschool temporarily. Subscribe to the 8-week program today! LOG IN HERE. Once subscribed, pick a course CLICKING HERE

* Cycle 3 course site is being edited and updated *
Monthly Devotions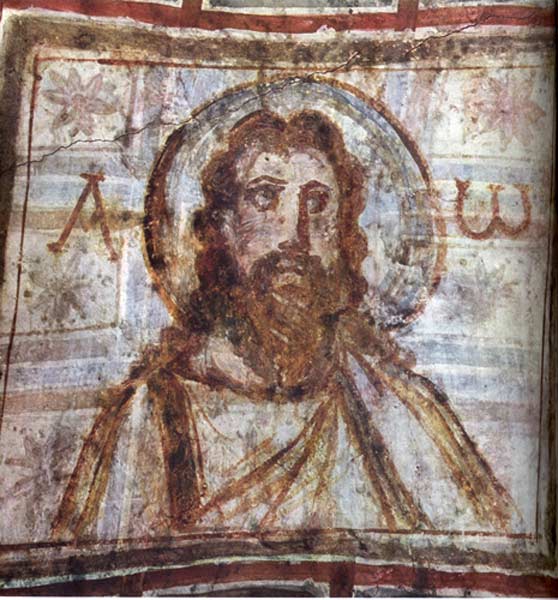 Cristo barbato (dettaglio), affresco 60x72, fine IV-inizio V secolo,
Catacombe di Commodilla, Roma
July Devotion
July is the month dedicated to the Precious Blood of Our Lord; the Feast of the Precious Blood is the first Sunday of the month. Father Faber describes why we honor the Blood of Christ in The Precious Blood: The Price of our Salvation.
There are indulgences attached to devotion to the Precious Blood: seven years and seven quarantines each day for public devotion; plenary indulgence on any day in July or 1-8 August, after having assisted eight times at a public function under the usual conditions; if the devotion is held privately, three hundred days each day with a plenary indulgence on 31 July, or 1-8 August.
From: https://www.aquinasandmore.com/catholic-articles/monthly-dedications-church-year/
Litany of the Most Precious Blood: https://www.ourcatholicprayers.com/litany-of-the-most-precious-blood.html
Prayer:
Hail, holy Queen
Hail, holy Queen, Mother of mercy, our life, our sweetness and our hope. To thee do we cry, poor banished children of Eve. To thee to we send up our sighs, mourning and weeping in this valley of tears. Turn, then, most gracious advocate, thine eyes of mercy toward us, and after this, our exile, show unto us the blessed fruit of thy womb, Jesus. O clement, O loving, O sweet Virgin Mary.
V. Pray for us, O holy Mother of God.
R. That we may be made worthy of the promises of Christ.
===============================================
ADD A RESOURCE:
https://docs.google.com/spreadsheets/d/15yjR0qQehHGQWGqpXaVRSbGwzO5L4gkh42vzFiAMHQE/edit#gid=211099198
REPORT AN ERROR:

https://docs.google.com/forms/d/e/1FAIpQLScGo_W69lBDwnfAfBI1gWmlw4diyNjaWWAn6B1L84a6Q6AGPA/viewform
===============================================