Q4 Share 8-Week Program - We welcome our "Q4 Share" guests who are trying out our program. Subscribe to the 8-week program today! LOG IN HERE. Once subscribed, pick a course CLICKING HERE

Scroll down to see your courses.
===============================================
Monthly Devotions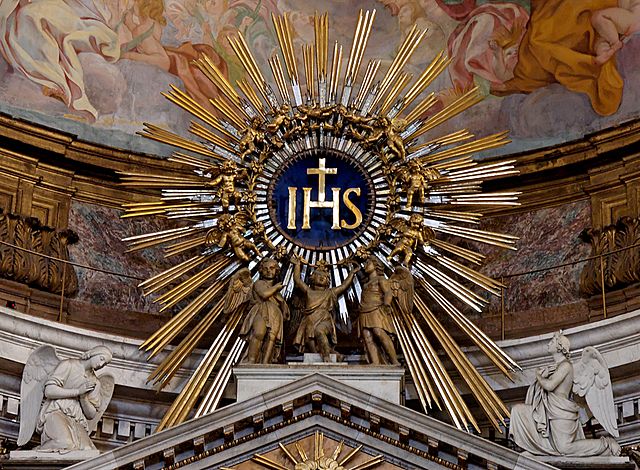 Holy Name of Jesus
"So that at Jesus' name every knee must bend in the heavens, on the earth and under the earth, and every tongue proclaim to the glory of God the Father: Jesus Christ is Lord" (Philippians 2:10-11)
January Devotion
January is the month of the Holy Name of Jesus. The feast of the Holy Name originated in the 1500s and was formerly celebrated on the second Sunday of Epiphany. It was removed from the calendar in 1969, "since the imposition of the name of Jesus is already commemorated in the office of the Octave of Christmas." (motu propri: Mysterii Paschalis, 1969) It was restored in 2002 as an optional memorial on the first free day after January 1st. (http://www.aquinasandmore.com/catholic-articles/monthly-dedications-of-the-church-year/article/184)
What does IHS stand for?
http://catholicherald.com/Opinions/What_does_IHS_mean_/
Litany of the Holy Name of Jesus
http://www.ewtn.com/faith/teachings/incab3c.htm
Prayer: January 28 is the Feast Day of St. Thomas Aquinas, our patron, so we pray:
Come, Holy Spirit, Divine Creator, the true source of light and fountain of wisdom. Pour forth your brilliance upon my intellect, dissipate the darkness which covers me, that of sin and of ignorance. Grant me a penetrating mind to understand, a retentive memory, method and ease in learning, the lucidity to comprehend, and abundant grace in expressing myself. Guide the beginning of my work, direct its progress, and bring it to successful completion. This I ask through Jesus Christ, true God and true man, living and reigning with You and the Father, forever and ever. Amen.
===============================================
ADD A RESOURCE:
https://docs.google.com/spreadsheets/d/15yjR0qQehHGQWGqpXaVRSbGwzO5L4gkh42vzFiAMHQE/edit#gid=211099198
REPORT AN ERROR:

https://docs.google.com/forms/d/e/1FAIpQLScGo_W69lBDwnfAfBI1gWmlw4diyNjaWWAn6B1L84a6Q6AGPA/viewform
===============================================