Q4 Share 8-Week Program - We welcome our "Q4 Share" guests who are trying out our program. Subscribe to the 8-week program today! LOG IN HERE. Once subscribed, pick a course CLICKING HERE
===========================================
SCROLL DOWN to see the courses in which your family is enrolled.

To log on: (first initial)(last name)

* Attention Schola Alta students & parents - everyone who enrolled should now have access (unless you've only enrolled in the past 7-10 days, we may still be processing your order)
*if there are two with the same first initial/last name - try first two initials of your first name/last name:
jsmith - Jane Smith
josmith - John Smith
*the name you used when you registered is the name that holds the account. Therefore, if you used Mr. Robert Jones, the account will be "rjones" vs. the mom's name because our data entry manager will not have that name nor can make that decision.
Password: aquinas - (all lower case letters. Please change your password when you first enter - AND WRITE IT DOWN in a secure place, it may take 24-48 hrs to reset the account.)
===========================================

PARENT GUIDES are now in the "RESOURCE FOLDERS" - Schola Alta parents, there is a RESOURCE FOLDER
Monthly Devotions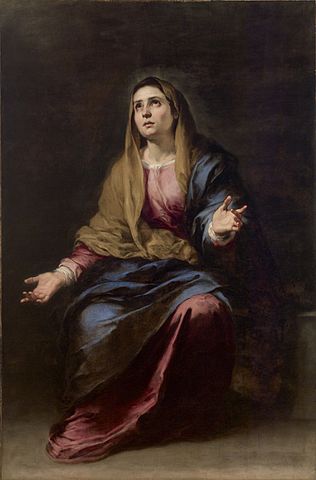 Dolorosa
By Bartolomé Esteban Murillo - [2], Public Domain, https://commons.wikimedia.org/w/index.php?curid=3118603
September Devotion
September is traditionally dedicated to the Seven Sorrows (or Dolours) of Mary, and the Feast of Our Lady of Sorrows falls in September. The Sorrows are:the prophecy of Simeon, the flight into Egypt, the loss of the Holy Child at Jerusalemfor three days, meeting Jesus on his way to Calvary, standing at the foot of the Cross, Jesus being taken from the Cross, and the burial of Christ. Read more about Our Lady of Sorrows in our article here.
Indulgences for devotion to Our Lady of Sorrows are three hundred days each day, and the devotions may be performed in public or private; a plenary indulgence on any day of September or 1-8 October under the usual conditions
Reprinted with permission from
http://www.aquinasandmore.com/catholic-articles/monthly-dedications-of-the-church-year/article/184
Prayer:
Hail, holy Queen
Hail, holy Queen, Mother of mercy, our life, our sweetness and our hope. To thee do we cry, poor banished children of Eve. To thee to we send up our sighs, mourning and weeping in this valley of tears. Turn, then, most gracious advocate, thine eyes of mercy toward us, and after this, our exile, show unto us the blessed fruit of thy womb, Jesus. O clement, O loving, O sweet Virgin Mary.
V. Pray for us, O holy Mother of God.
R. That we may be made worthy of the promises of Christ.
===============================================
ADD A RESOURCE:
https://docs.google.com/spreadsheets/d/15yjR0qQehHGQWGqpXaVRSbGwzO5L4gkh42vzFiAMHQE/edit#gid=211099198
REPORT AN ERROR:

https://docs.google.com/forms/d/e/1FAIpQLScGo_W69lBDwnfAfBI1gWmlw4diyNjaWWAn6B1L84a6Q6AGPA/viewform
===============================================