Q4 Share 8-Week Program - We welcome our "Q4 Share" guests who are trying out our program. Subscribe to the 8-week program today! LOG IN HERE. Once subscribed, pick a course CLICKING HERE

Scroll down to see your courses.
===============================================
Monthly Devotions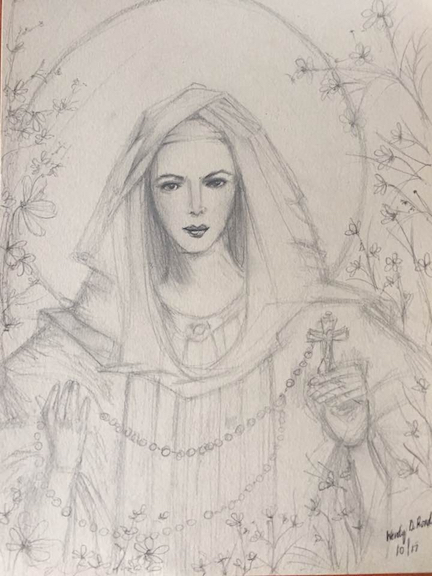 October Devotion
October is the month of the Rosary, because of the anniversary of victory at the Battle at Lepanto and the feast of Our Lady of the Rosary occurring in October. The Battle of Lepanto and the institution of the feast day took place in the 17th century; in the late 1800s, Pope Leo XIII officially dedicated the entire month to devotion to the Holy Rosary. Read our entire article on the month of the Rosary here, and learn more about the Battle of Lepanto in our article here.
Reprinted with permission from http://www.aquinasandmore.com/catholic-articles/monthly-dedications-of-the-church-year/article/184
Prayer:
Hail, holy Queen
Hail, holy Queen, Mother of mercy, our life, our sweetness and our hope. To thee do we cry, poor banished children of Eve. To thee to we send up our sighs, mourning and weeping in this valley of tears. Turn, then, most gracious advocate, thine eyes of mercy toward us, and after this, our exile, show unto us the blessed fruit of thy womb, Jesus. O clement, O loving, O sweet Virgin Mary.
V. Pray for us, O holy Mother of God.
R. That we may be made worthy of the promises of Christ.
===============================================
ADD A RESOURCE:
https://docs.google.com/spreadsheets/d/15yjR0qQehHGQWGqpXaVRSbGwzO5L4gkh42vzFiAMHQE/edit#gid=211099198
REPORT AN ERROR:

https://docs.google.com/forms/d/e/1FAIpQLScGo_W69lBDwnfAfBI1gWmlw4diyNjaWWAn6B1L84a6Q6AGPA/viewform
===============================================